We first met Kylie back in early 2011 after she recently opened Moksha Yoga Kelowna and were immediately hooked to her yoga studio and her exuberant and passionate love of life.  We were so honoured to produce some beautiful images for their studio and when Kylie got engaged we were ecstatic when she asked us to be her wedding photographers – yay!  This summer we got to hang out with Kylie and Brandon and produce some beautiful images of them, along with their super cute dog, Marley (aka Doddle) which you can view here.
As their wedding day approached, we got very excited – not just because this wedding was going to be an off-the-wall celebration, but because Kylie heavily reinforced that we were there also as guests and expected us to have just as much fun!  Well…OK, twist our arm.  This wedding was a full day event – starting in the morning with getting ready at Mirror Mirror Salon and Spa and ending in the morning at the wedding after-party held at Chop.  Their October wedding turned out to be a glorious sunny Autumn day, with the perfect temperature – not too hot and not too cold.  I swear, since that weekend it's been rather dismal and incredibly rainy and cold here in Kelowna, so it's amazing to think this was only a few weeks ago.
While the girls got ready at Mirror Mirror, the guys headed to Plan B in downtown Kelowna to get straight razor shaves.  After all that pampering, the guys and girls got ready at separate places in West Kelowna before heading to the ceremony held in front of the vineyard overlooking Okanagan Lake at Summerhill Winery.  We love how down to earth Kylie is – in true yogi fashion, she went down the aisle barefoot.  So beautiful.  After the ceremony, Kylie and Brandon, along with their fathers sabered champagne in true Napoleon style kicking off an evening of celebration.
I feel like we could go on forever (and we do gush a bit more later down, but we'll let the photos tell the rest of the story).  Thank you so much Kylie and Brandon for letting us be part of your spectacular celebration.  We are so truly honoured (and had so much fun)!  We hope your Maui honeymoon was phenomenal!  Namaste.
Ours jaws dropped when we walked into their reception – Vintage Origami created such a stunning array of rustic, earthy, vintage, and autumn inspired décor. Kylie's phenomenal bouquet (also bridesmaids bouquets and boutonnières) were created by Flower Scene. Kylie is a true earth steward (a quality we highly admire in others) and made sure that her wedding also reflected her love of the earth. Guests were given mason jars to drink out of the entire night, along with compostable paper vintage striped straws. How cute it that? Guests were given tree seedlings as a thank-you token (which conveniently fit into the mason jars for easy traveling). Also, we gushed about the cupcakes made by Cupcasions which cascaded over the table in all sorts of delicious and beautiful ways. They even had vegan cupcakes which rocked our world since we both follow a vegan diet – finally we can have wedding cake!
Below:  At the end of their slideshow, Kylie surprised Brandon with a 10 day honeymoon in Maui!  She let him believe that they were going to stick around Kelowna after the wedding because she had business to attend to.  Little did he know she was planning an awesome honeymoon.  Hehe…so sneaky.
Kylie and Brandon's signature wedding cocktails:  the "SUTTON-situation" featured on the left and the "CRICK-tini" featured on the right.  Love!
This wedding was so fun and we have never seen Summerhill so packed – everyone was there to have an awesome time. DJ Haymaker had the dance floor packed, the photobooth operated by Okanagan Photo Star had nonstop lineups, and with their open bar, including their signature cocktail drinks creatively named after the couples last names – this party was hoppin' (OK, we feel super geeky saying that). Oh, but the fun didn't end their – guests hopped aboard a shuttle and headed off to the afterparty at Chop which continued with tapas and more crazy fun dancing well into the wee morning.
Late night yoga moves on the dance floor were to be expected – love it!
And to prove we were having just as good of a time – here we are below, your photographers, ironically with no cameras.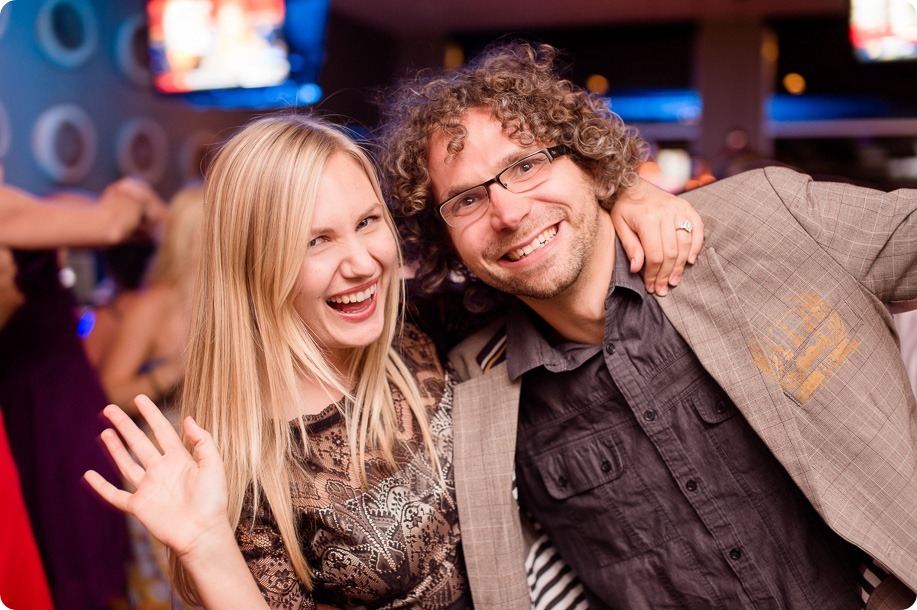 slideshow music licensed via With Etiquette                         click on the 480p button and switch to HD prior to viewing Full Screen
Vendors:
Venue: Summerhill Winery
Décor:  Vintage Origami
Florals: Flower Scene
Cupcakes: Cupcasions
Officiant: Lauren Sommersoll and Airlie Pinkerton
DJ at Summerhill Winery: DJ Haymaker
Videographer: John Thiessen
Photobooth: Okanagan Photo Star
Afterparty Venue: Chop
DJ at Chop: Spinalshift
Dress Vendor: Ethos (Calgary)
Bride's Sandals: Sam Edelman
Girls Hair/Makeup: Mirror Mirror Salon and Spa
Guys Straight Shaves: Plan B