When Aliana emailed us with her idea of having her engagement photos on the beach with a bed, I'm pretty sure we squealed with excitement we were so excited with her idea!  She admitted she was a little nervous asking us since the idea is a bit 'out there', but we LOVE making engagement photoshoots unique and customized to each client and we immediately began envisioning this dreamy session.  The amazingly talented Yuriko and Erik from Vintage Origami Wedding Décor & Rentals made Aliana's dream a reality with their stunning bed that yes, was brought right down to the beach!  Of course, the beauty didn't stop there as Yuriko styled a gorgeous lakeside dining table and dresser adorned with beachside vintage goodness including a framed photo of Aliana & Matt's beloved cat, Mocha.  The beautiful floral arrangement and hair wreath was provided by the talented A New Leaf Floral Design.
The weather was definitely not the typical sunshine that is reminiscent of the Okanagan, but we love the soft grey tones and windswept look with the décor and overall feeling of the scene.  Aliana & Matt were total troopers amidst the chilly weather and sporadic rainfalls, having fun and looking fantastic no matter what the weather threw at us.  And just when it couldn't get any better, they had a pillow fight on the bed…on the beach!!!  Ahhh!  There is so much fairytale dreaminess in this photohsoot and we are head over heels in love with it.  Aliana & Matt, we can't wait to photograph your wedding in August at Elysium Gardens and Hotel Eldorado this year!!!
Matt's from New Zealand, so the shoot wouldn't be complete without an ode to his favourite rugby team!  Go All Blacks!!!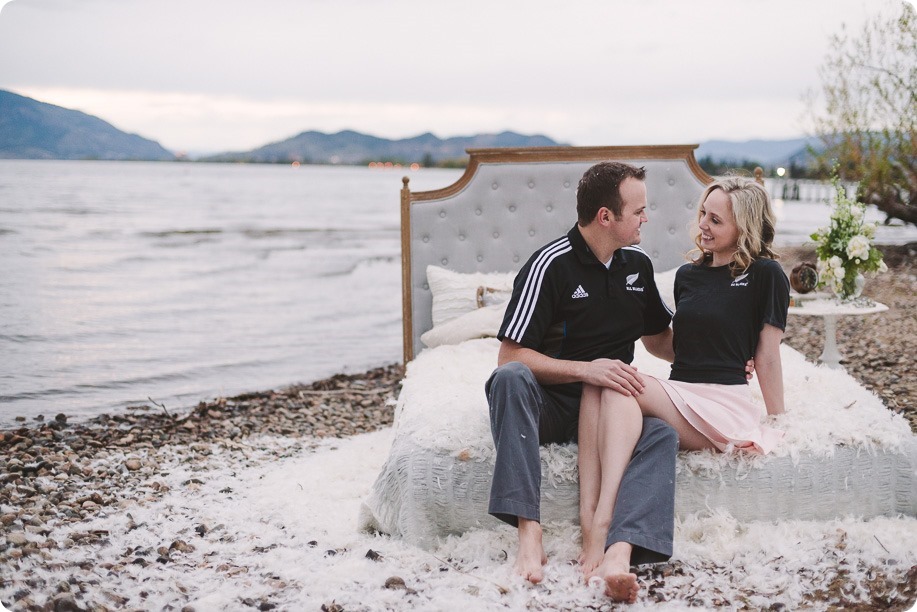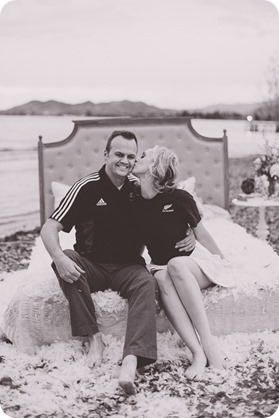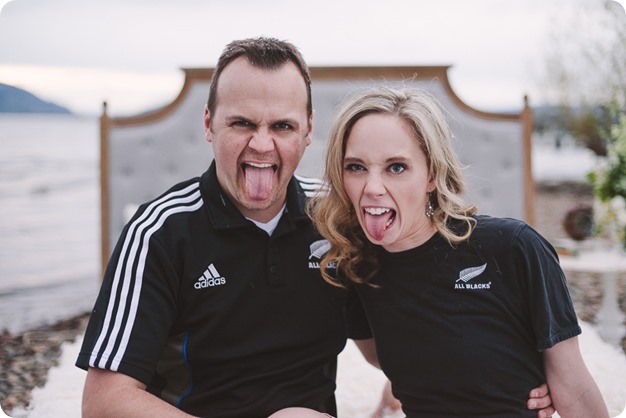 slideshow music licensed via The Music Bed                 click on the 480p button and switch to HD prior to viewing Full Screen