We have actually known the gorgeous bride, Giselle, since our own wedding in 2007 when she styled Katherine's hair for our big day!  Katherine was so thrilled with her creativity and style that ever since Giselle has been the sole hair stylist for the Trowbridge's.
When Giselle asked us to shoot her wedding, I was beyond thrilled since she is such a beauty inside & out!  When she told me that she was having the reception in a barn, I am sure that I nearly shrieked with excitement.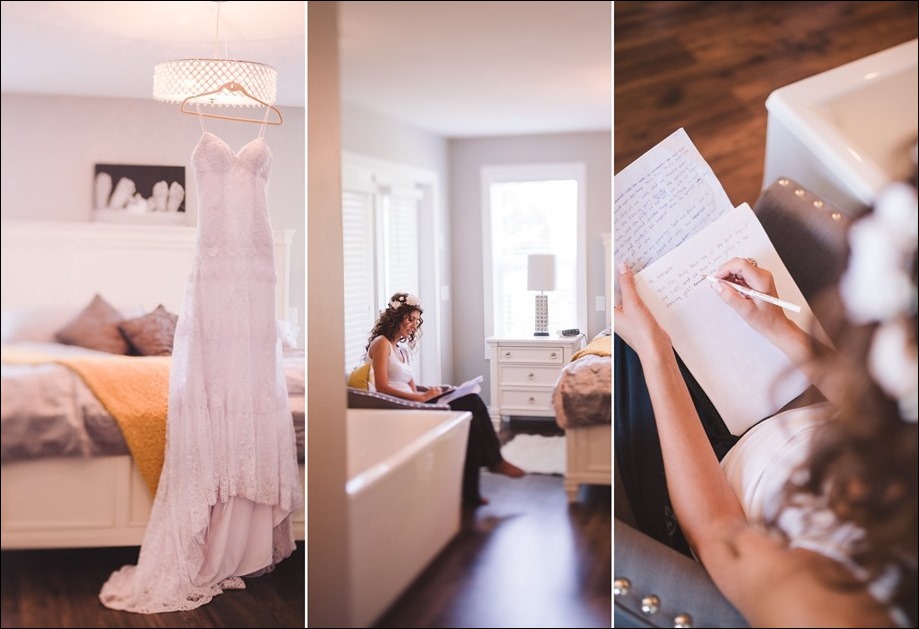 Her wedding morning started out in her beautifully decorated home re-writing her reception speech.  I love the sense of deep focus and quiet contemplation before all the busy-ness that ensued the rest of the day!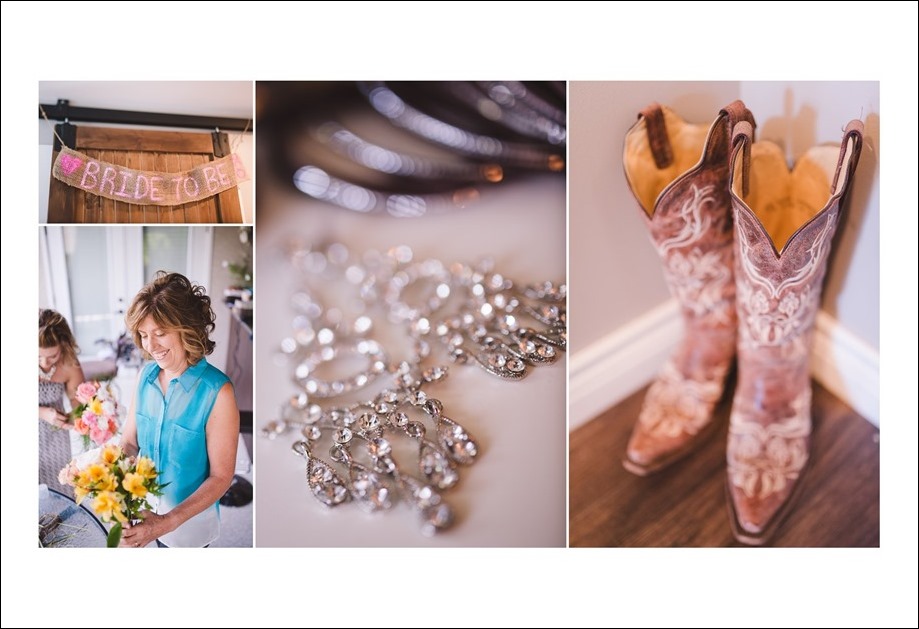 Giselle had all the details planned with her mother and bridesmaids making sure it all went smoothly 🙂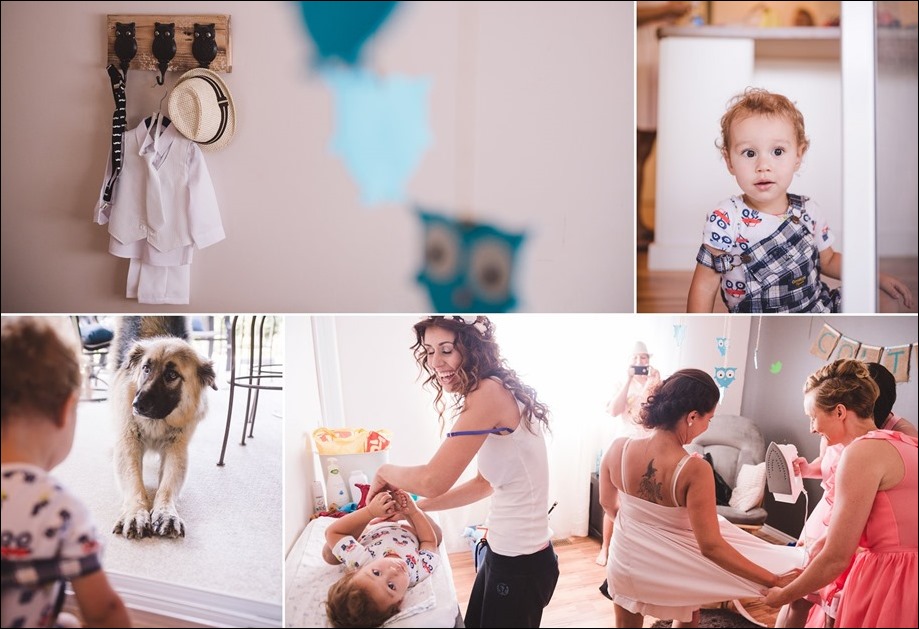 OMG, her darling son was entertained by all the laughter and their giant long-haired German Shepherd, Chevy. Check out one of my favourite shots (above) of the bridesmaids ironing there dresses while still on!  This image totally embodies the fun and crazy moments of getting ready on wedding days!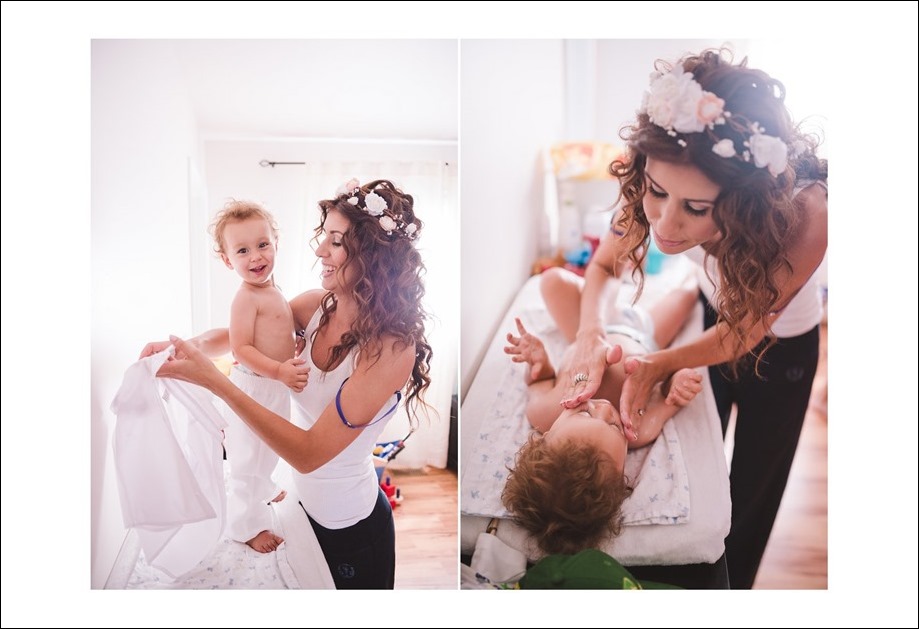 This is what I wait for – the genuine connection between loved one's and there is nothing sweeter than a mother and her baby.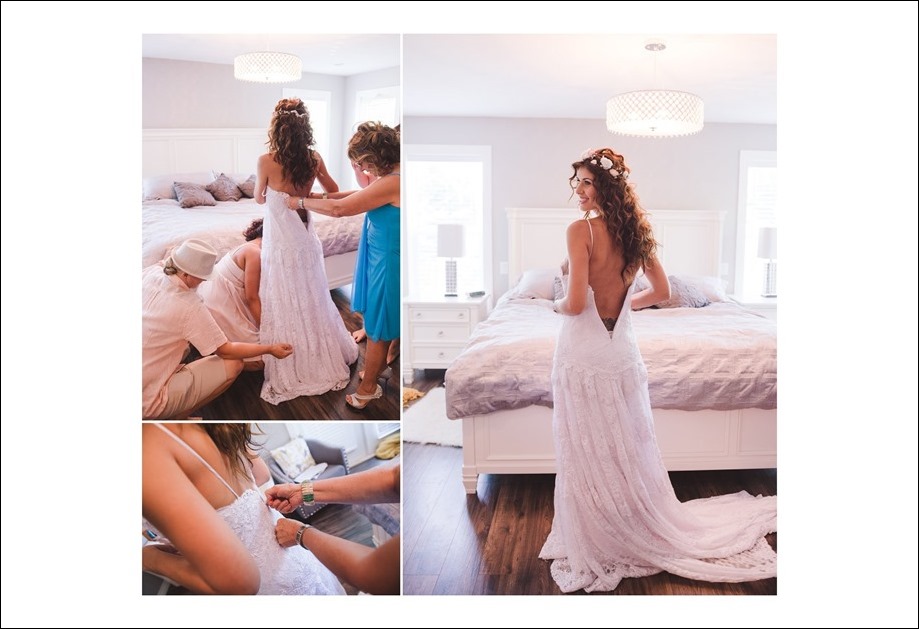 Every time I would go for a hair cut in the months leading up to the wedding Giselle would tell me about the special lace wedding dress she had found.  When I finally got to see it on her is fit beautifully!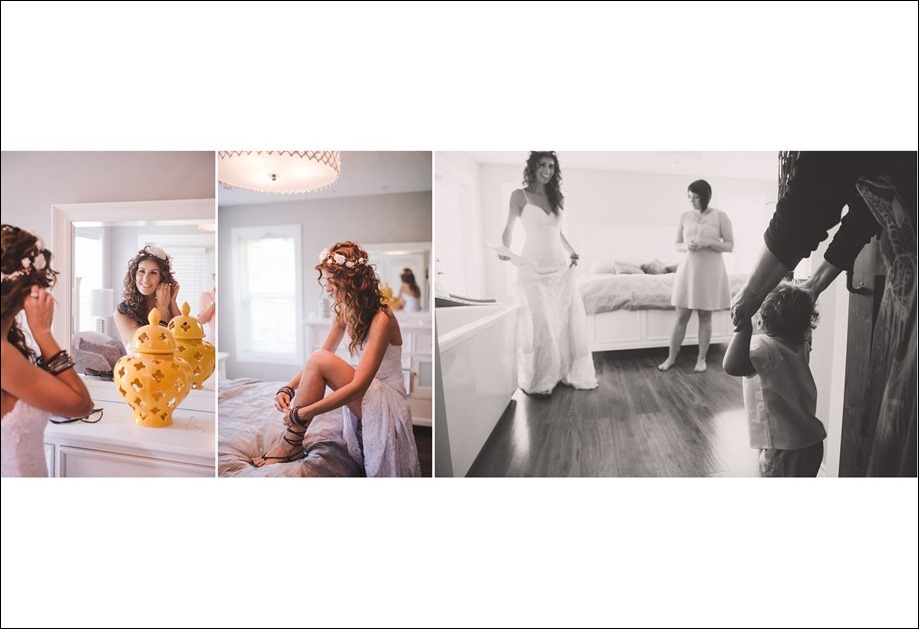 I love that her personal style included lace-up sandals, bangles, and a flower wreath.  The big reveal was so sweet with her son grinning ear to ear  – and you can just see Giselle's smile light up too!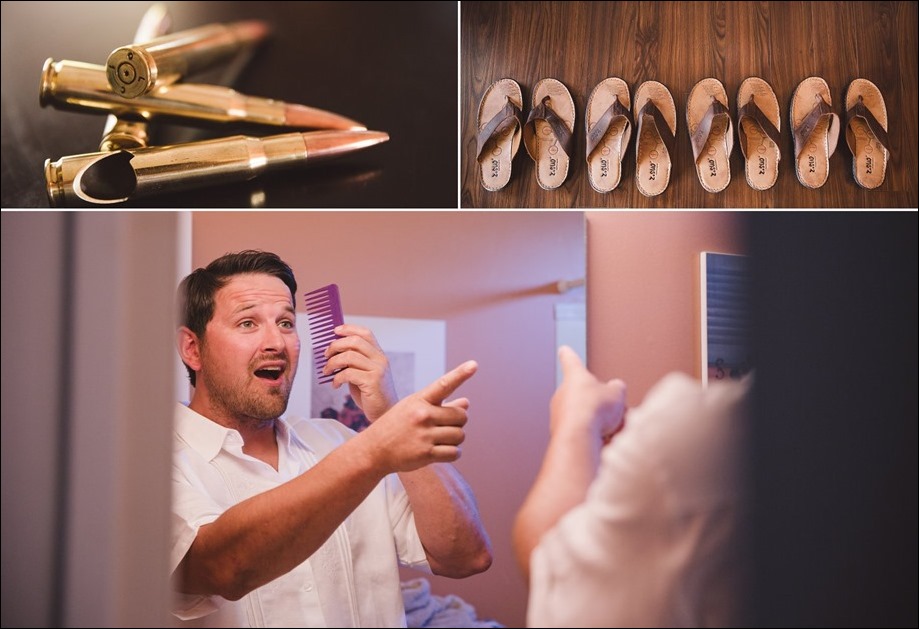 My wonderful second shooter this summer, Ali, was with the guys covering all their antics and beautifully shooting the details that complete the story.  Gotta love the groom-to-be singing in the mirror (at least I can assume)!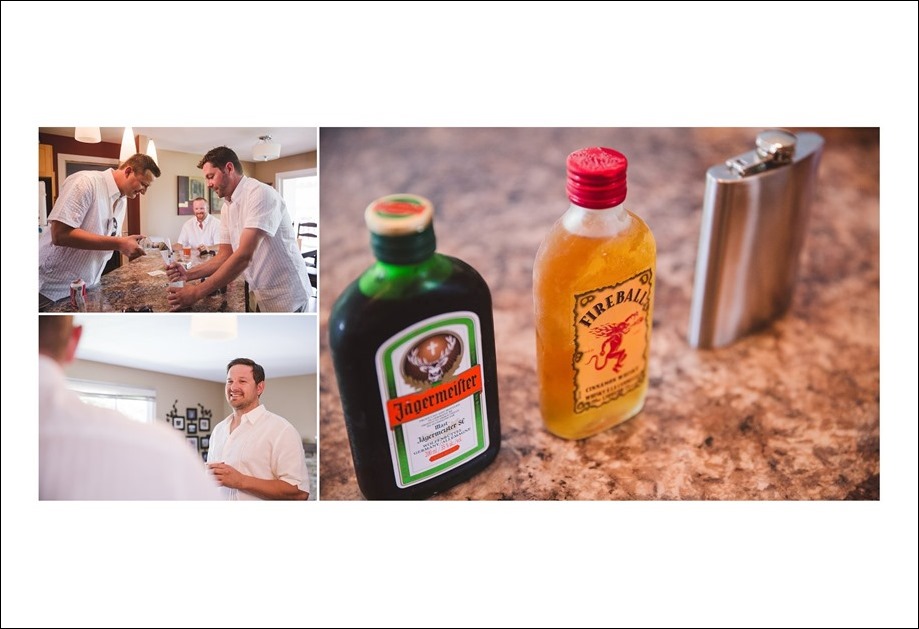 The groomsmen almost always break out the drinks in early celebration of the day – it does help with the nerves too!  Just don't mix that Jager and fireball together pre-ceremony please 🙂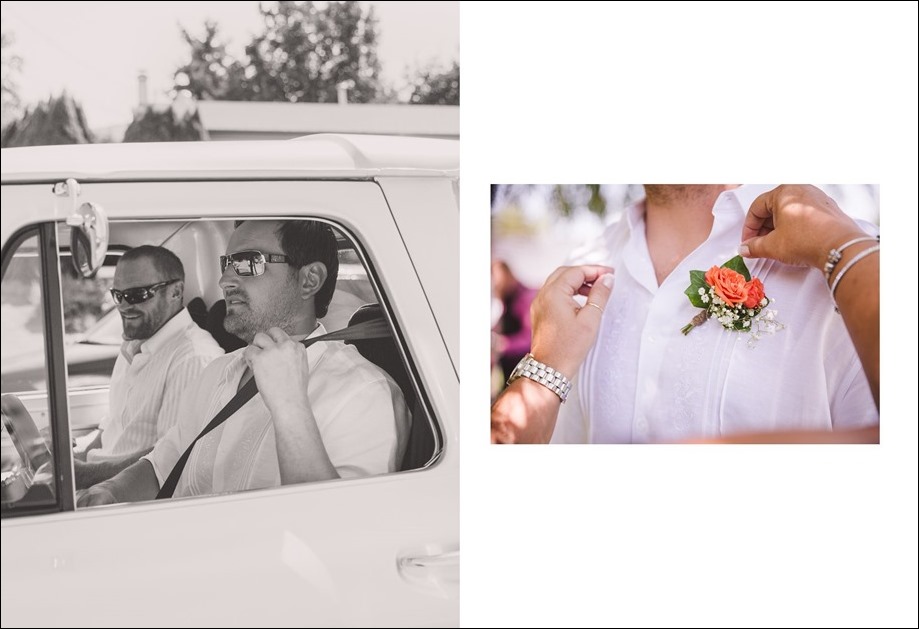 Curt spent some time in the months before the wedding bringing his classic truck up to tip top shape to feature on their big day.  I believe he started this as a project car in his teens.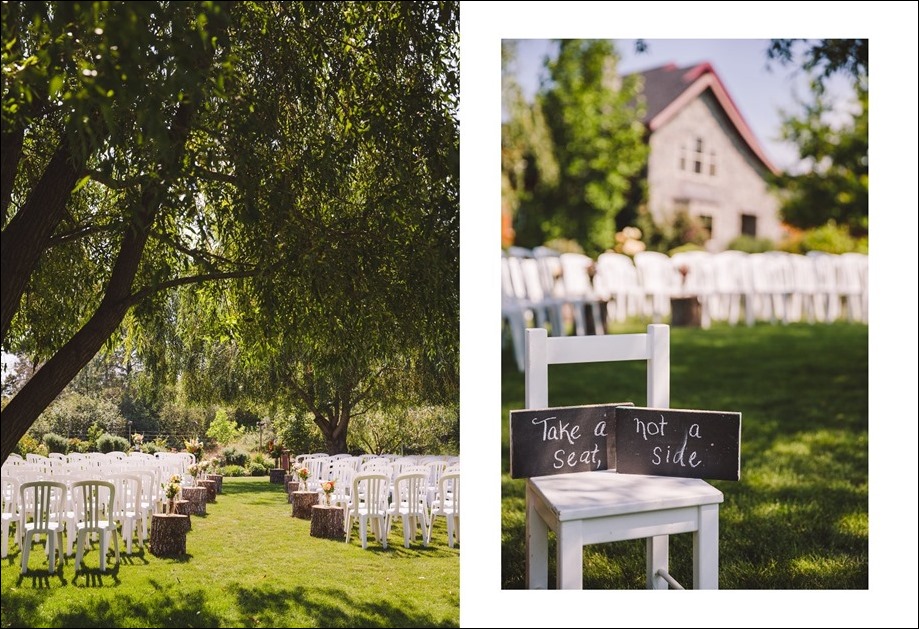 Falcon Ridge Farms was the perfect setting for a rustic, but elegant wedding. The couple planned fitting details including freshly cut logs to frame the aisle each topped with a wildflower bouquet and chalkboard stating the modern instructions for ceremony guests to "Take a seat, not a side."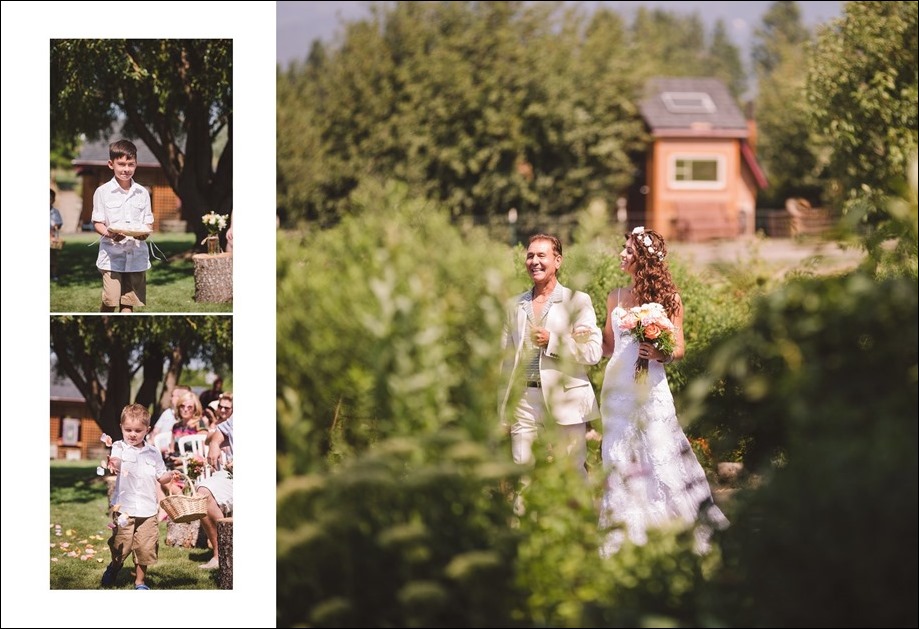 I just love waiting for those moments where you can capture the moment between a father and his daughter before he walks her down the aisle.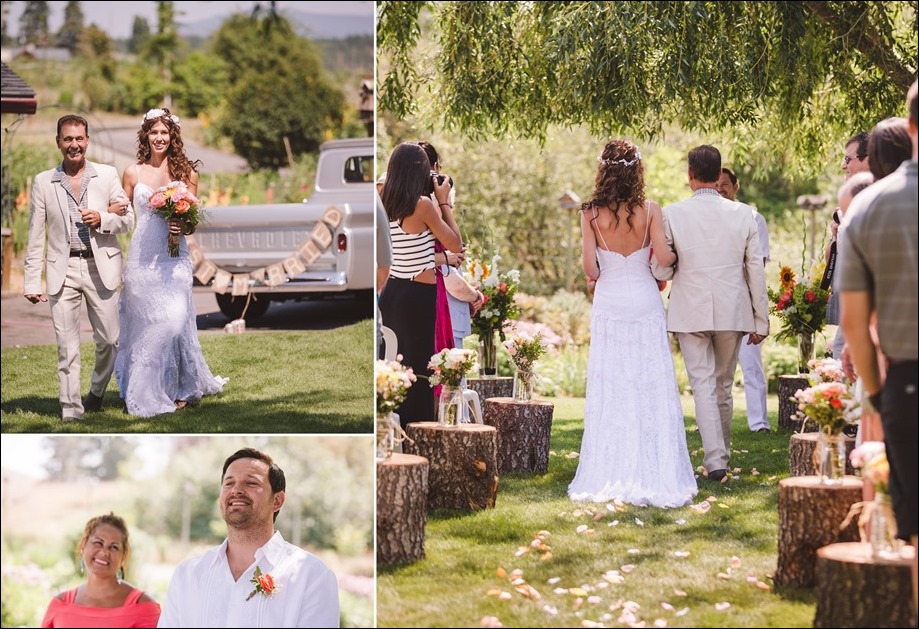 So many wonderfully framed images from multiple angles to show their story and the moments in-between the moments like Curt's proud and joyous grin as his bride proceeds down the aisle.   You can really tell how much their officiant, Barb Samuel, truly loves what she does and connects with her couples.
Look at the wonder of the young boy freely exploring the ceremony aisle – such a telling sign of a free-hearted and relaxed farm wedding 🙂
Such a great choice to have their ceremony under the great willow tree – the perfect place on a hot Okanagan day!
I love how Curt picked up their boy to include him in the ceremony recession – what a great family.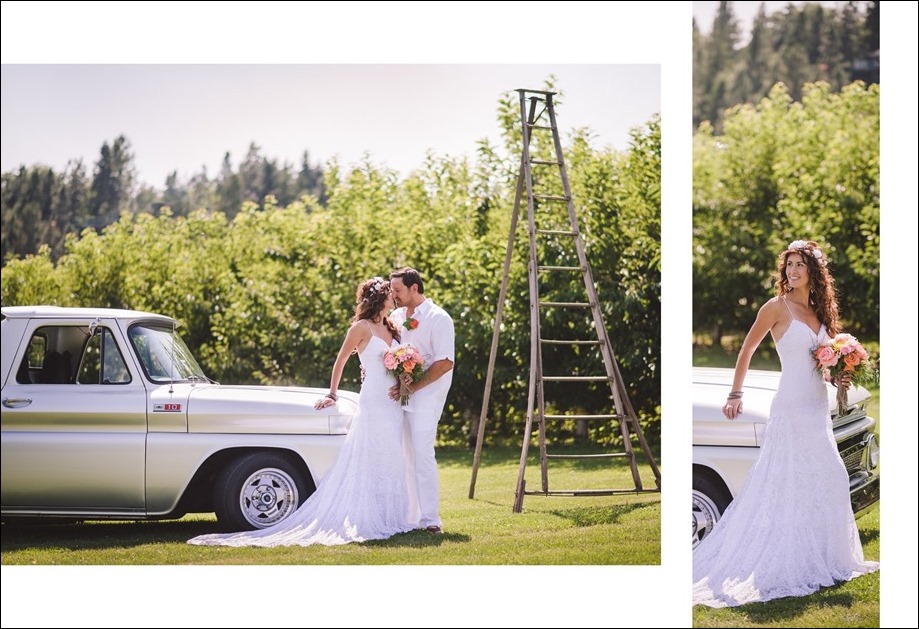 Shortly after the ceremony and some family group portraits, we moved about a hundred feet away to a lush orchard location and featured Curt's truck and my vintage picker's ladders for a few stunning couple's and wedding party portraits.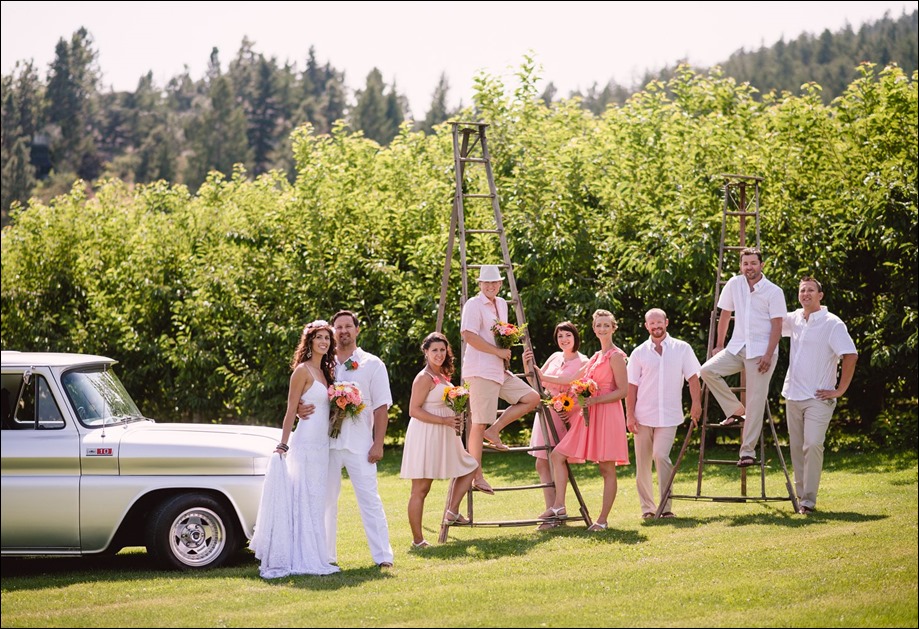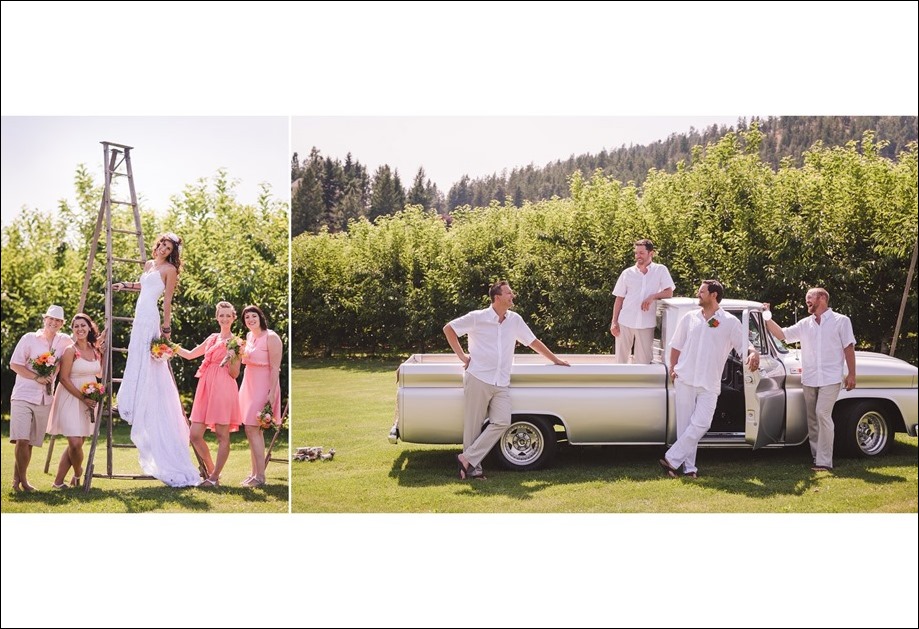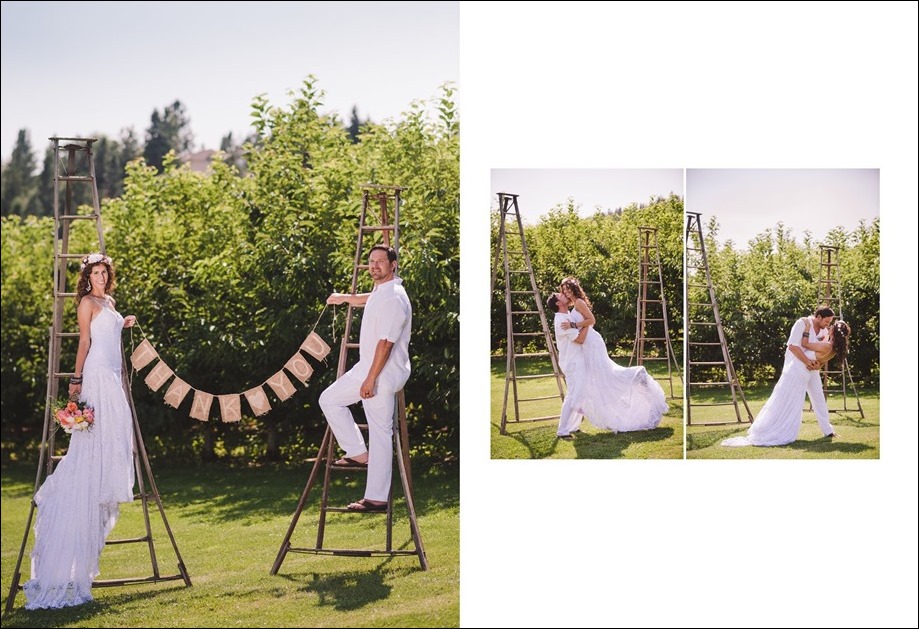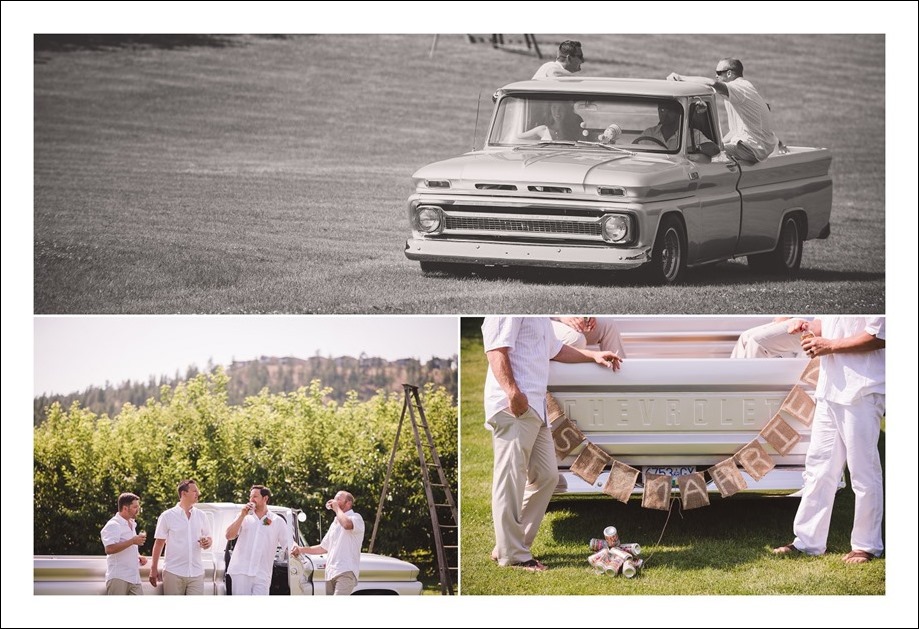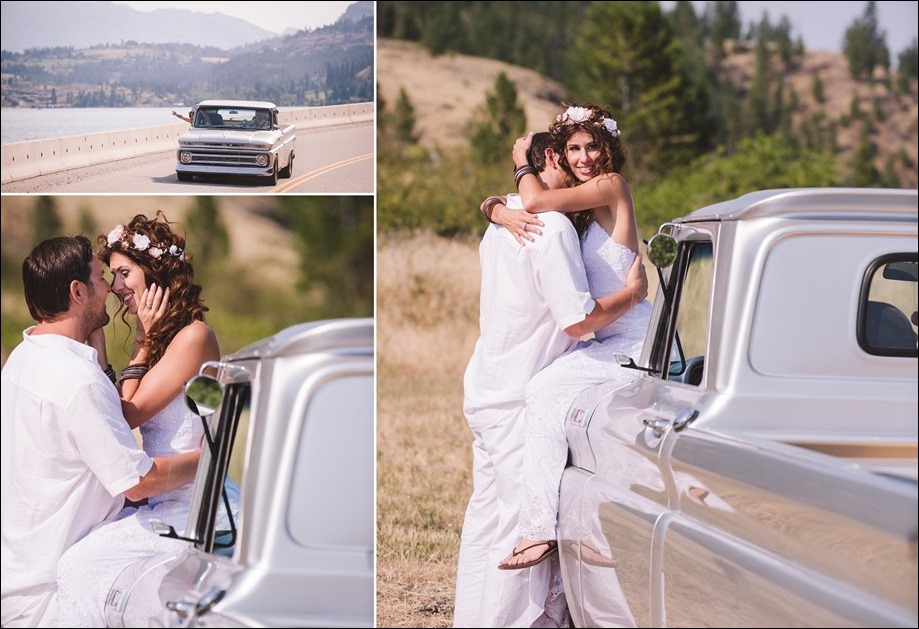 The happily married couple then decided to take off on a mini roadtrip across the lake to my favourite hidden beach park complete with golden fields, canopy covered paths, and sparkling water.
Giselle was not scared of getting her dress dirty for the reception, enjoying strawberries, champagne, and cuddling in the golden field with her hubby.
A short drive down to the water and onto a tree covered path that just speaks of a secret garden.
A lakeside walk along the sparking water allowed for some private time together on such a busy day.
The pines, the rock, and the lake – exactly what makes up a perfect Okanagan landscape!
Don't worry, I wasn't shooting while driving – Ali took the wheel.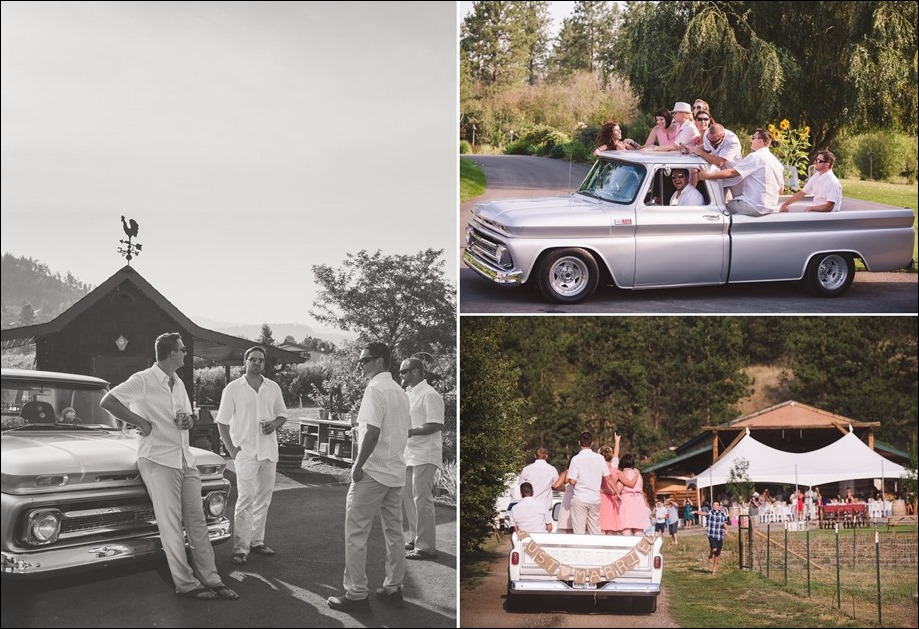 One of the most unique reception entrances with the wedding party piles in the back of the pickup.  Take a look at the boy running up to greet them!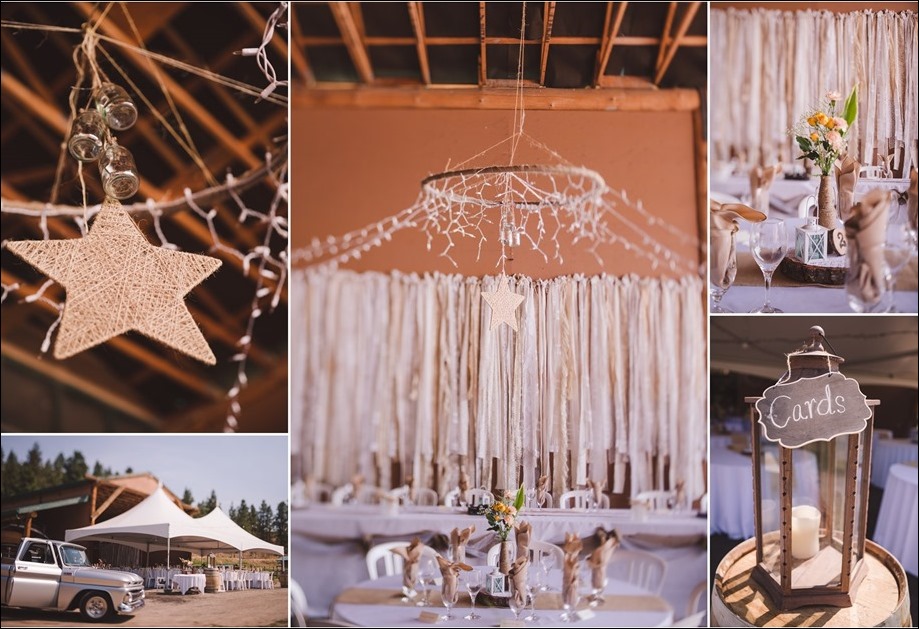 Together with their friend, Sabrina, their décor was all self-made including the amazing fabric and lace backdrop at their head table.
They chose an amazing team of vendors including DJ Haymaker, Sweet On You Designer Cups & Cakes, and catering by Martin Laprise – The Chef Instead.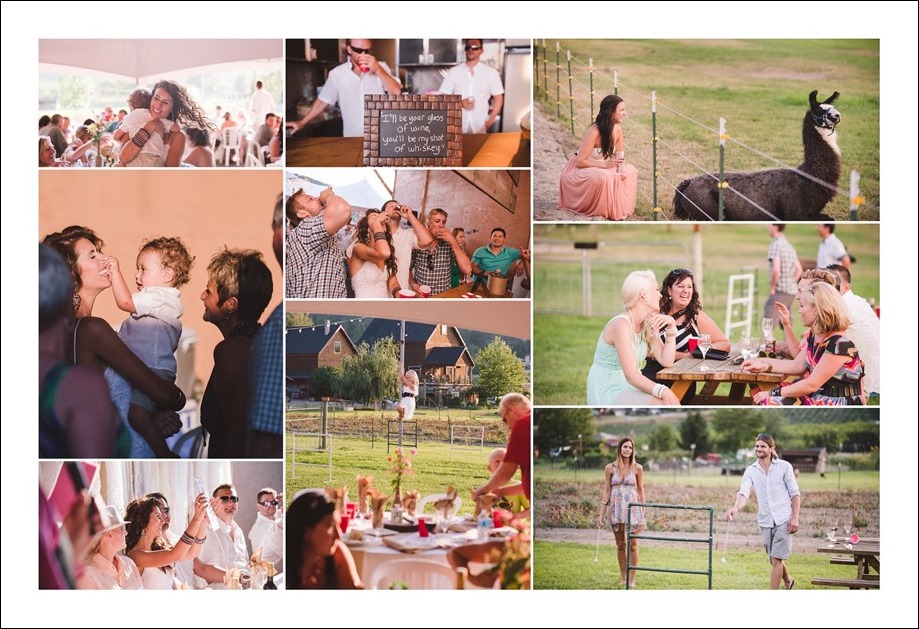 While Giselle and Curt ran off for a short sunset session with me, their guests played lawn games, visited the llamas, and enjoyed the groomsmen serving up shots and cocktails.
You can't get any better than golden sunflowers backed by a golden sunset with a beautiful couple.  These sunset sessions are even more relaxed after those reception drinks 🙂
I saw the unique oak-lined bed of Curt's truck and had to figure out a creative way to feature it.
Oh, DJ Haymaker always gets a party started then heartfelt and humorous speeches followed.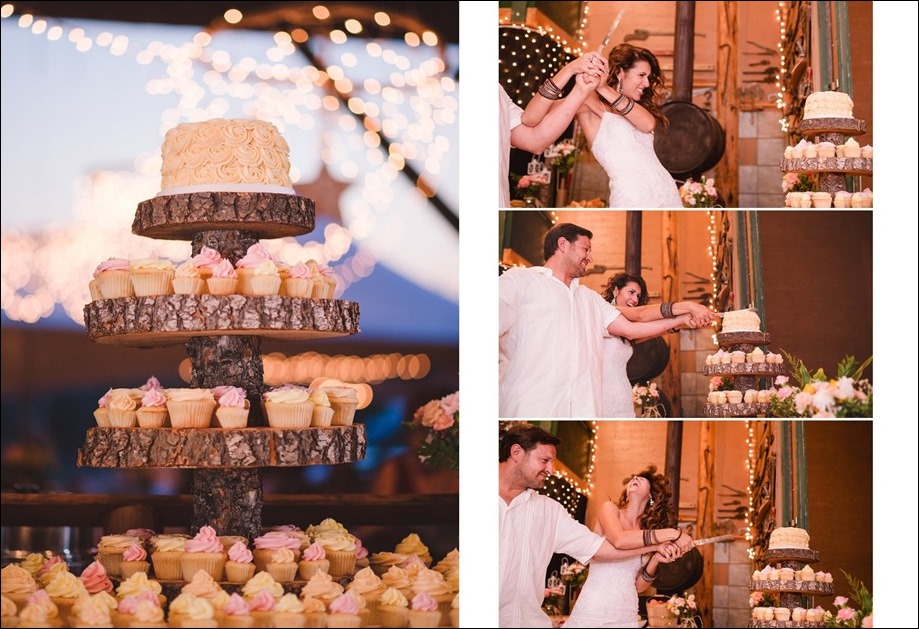 Anna's fondant handywork from Sweet On You sure looks great on top of that tower of cupcakes and logs.  Giselle sure had fun with the cake cutting; I don't think I have ever seen a more humorous attack at the cake!  So fun!!!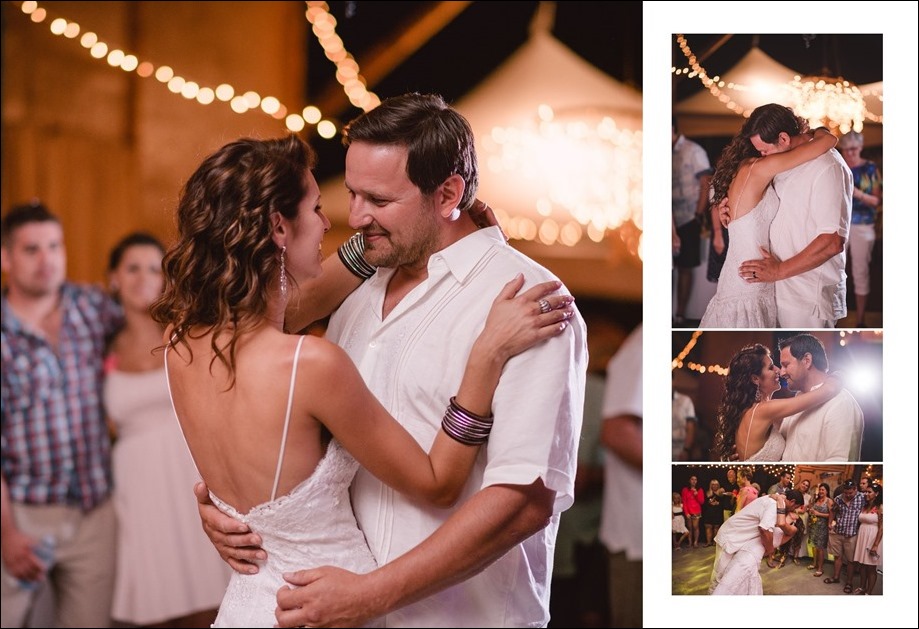 A sweet moment during the first dance between the couple backlit by their sparkly strings of lights which lined the barn rafters.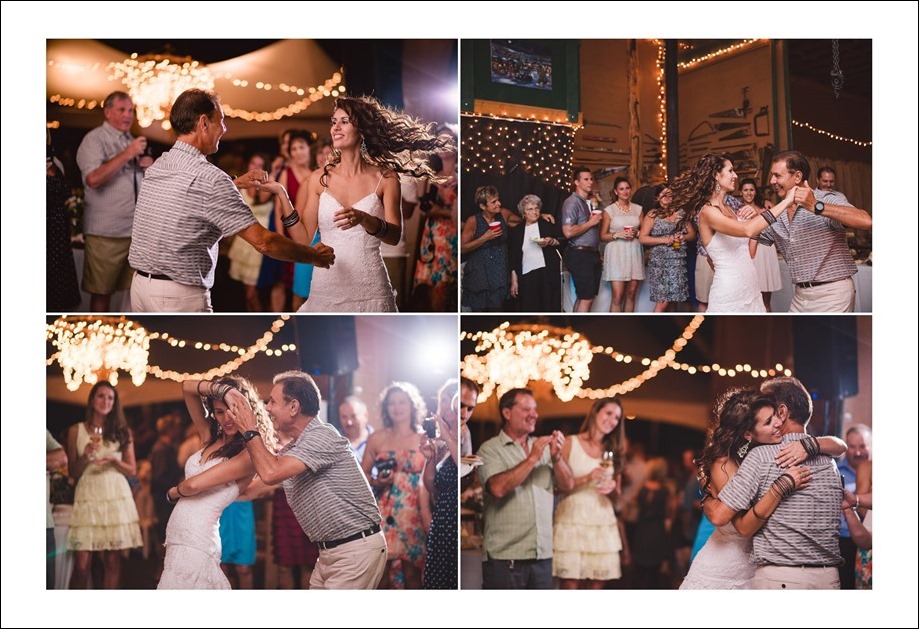 Giselle's father, Jack, followed with a father-daughter dance, sweeping her around the floor with elegant moves – they must have danced together since she was a child!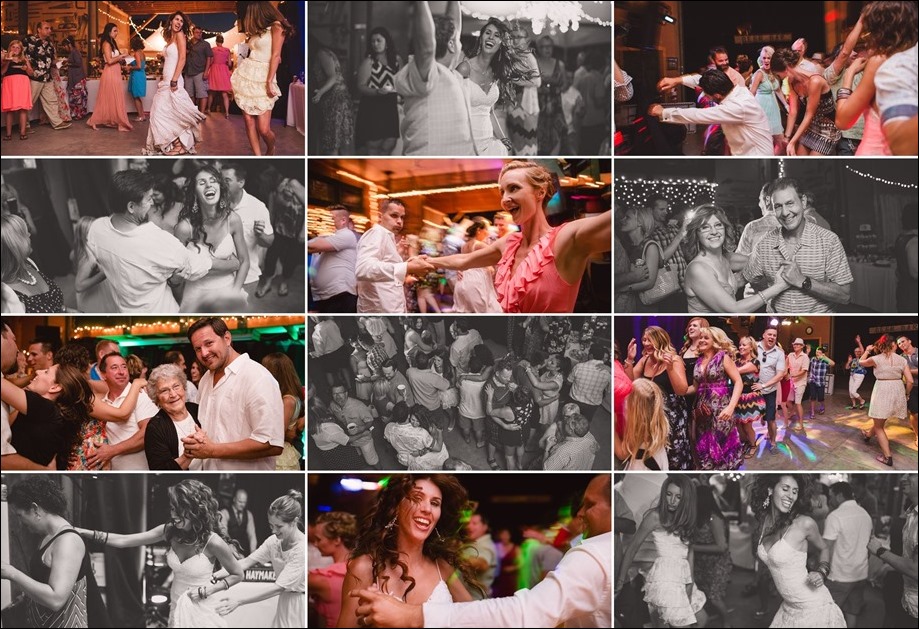 As the rest of the night unfolded, the dance party ensued even including a Congo line!   The photographers left after a long day of exhilarating shooting just as the near full moon rose into the sky setting stage for a great finale shot that I couldn't pass setting up as I drove away.  Congratulations, Giselle & Curtis – we wish you an amazing life together filled with love and happiness!!!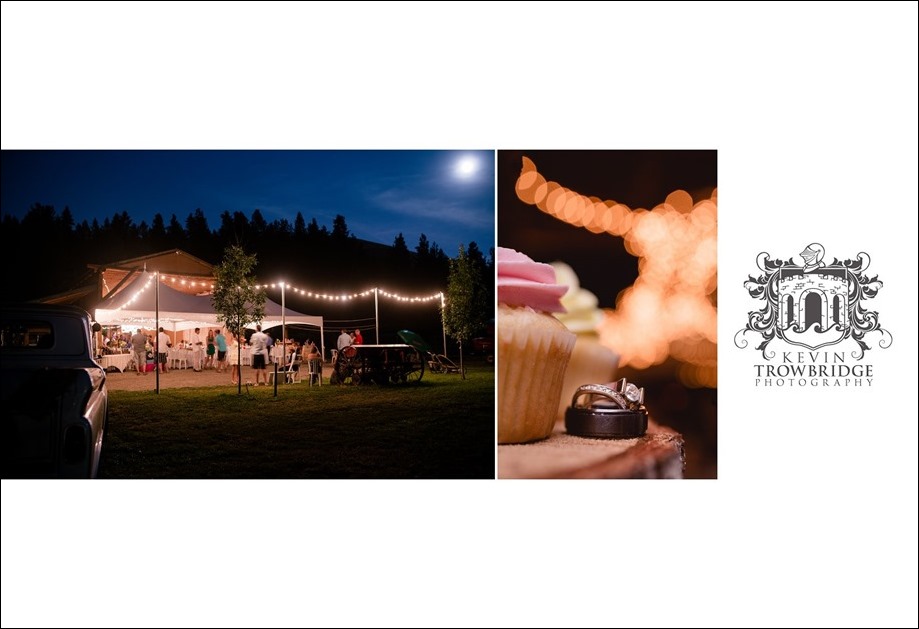 Vendors:
Venue: Falcon Ridge Farms
Ceremony Officiant: Barbara Samuel
Coordinator/planner/decorator: Sabrina Nunes & Bride
Hair Stylist: Sabrina Nunes – Mirror Mirror Salon & Spa
Makeup: Sailica – Pommette Mirror Mirror Salon & Spa
Ceremony & Reception music: DJ HayMaker
Catering: The Chef Instead – Martin Laprise
Cake: Sweet On You Designer Cups & Cakes
Photography Assistant & 2nd Photographer: Ali Mathieson