Sept 1, 2015 update:
This session was just featured on Good Morning America "Extreme Engagement Pictures."  Check out the video below:

_________________________________________________________________
Happy Halloween!  In the spirit of all things terrifying, we bring to you a zombie engagement session on this scariest day of the year.  When chatting with Darren and Nicole a while back regarding their upcoming wedding and ideas for their engagement session – Darren looked at us through the choppy Skype connection via our computer and said he wanted zombies.  We laughed, thinking he was joking, but he was dead serious (excuse the pun).  Nicole, being a super awesome fiancé, totally agreed and so we started brainstorming ideas for the shoot.
Unless you have been living under a rock, you will know how crazy popular the zombie movement is.  Zombie engagement shoots are not new and we were adamant not to replicate something that's been already done.  One thing, Darren made clear was that he didn't want to have a happy ever after ending, with them killing all the zombies and blissfully walking off into the sunset.  Agreeing no guns would be used (we are from Canada after all!), Darren brought some of his cool weapons he handmade himself (yes, this man can blacksmith as well!).  He seriously might be ready for a zombie apocalypse!
We cannot say enough thanks to all the AMAZING zombies who showed up and frightened us all!  Especially, Trish (zombie with the apron), who after casually asking if she would be interested, took it upon herself to recruit and help with costumes and makeup.  Thank you, Trish!!!  Also, thanks to the historic Father Pandosy Mission for providing the perfect backdrop to a zombie attack.
Thanks Nicole & Darren for your creativity and love of zombies.  We can't wait to photograph your wedding on August 30th, 2014 at Cedar Creek Winery and Hotel Eldorado!
And so here begins a tale of woe.  Darren & Nicole, set off for a day exploring a nearby abandoned village.  So enamored with each other they did not see what was lurking in the shadows (enter evil laugh)…
Is there anything more creepy than a zombie child ?
THE END.
OK, not really.  Here are a few more after-takes that we couldn't resist posting.  How can you not perform the thriller dance?
Father Pandosy himself with the zombies as they attack Darren & Nicole.  Even though she's not in many photos because she was busy assisting and second shooting, my lovely wife, Katherine decided to dress up like a zombie too and is below (left of Father Pandosy) joining in on the mob.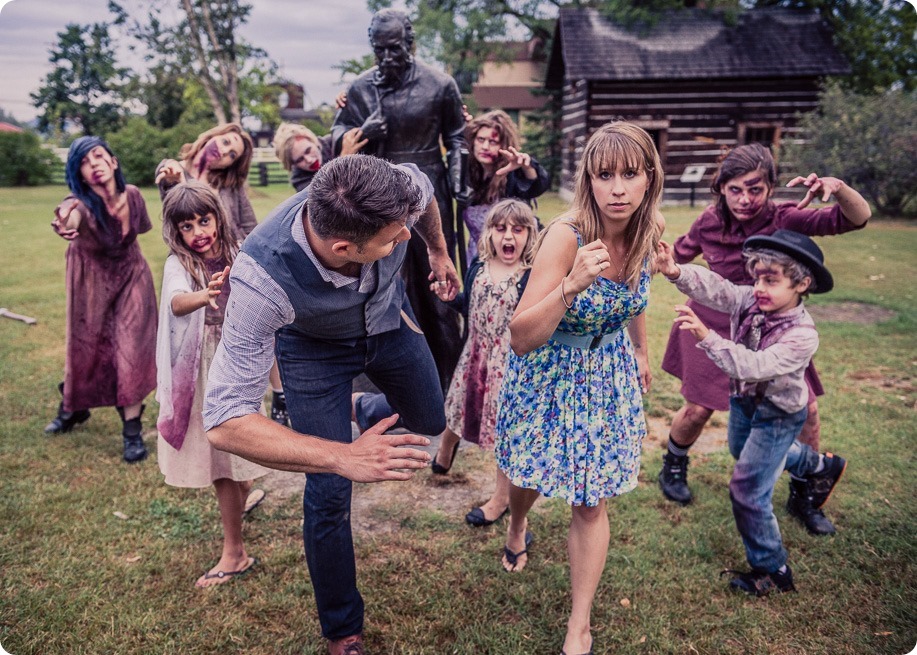 Check out the slideshow – we promise, at 2:57 we found the best zombie killing/wild west/ghost town music.  Enjoy!
slideshow music licensed via The Music Bed                 click on the 480p button and switch to HD prior to viewing Full Screen